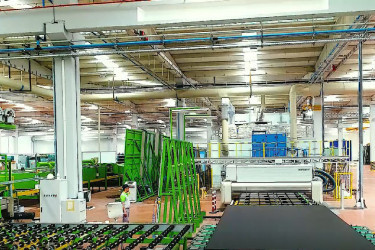 Always Innovation, Aesthetic Designs and Customer Satisfaction ...
Yorglass Satinated was founded in 1989 as the first acid-etched satin glass producer in Turkey and today offers unique designs in more than 60 countries all over the World.
Yorglass Satinated, which has 6 different product groups with its customer-specific designs as well as more than 100 decorative pattern options, realizes technological and aesthetic touches by means of micro etching processing method.
Yorglass Satinated has efficiently improved our techniques of acid finishing from tinted glass to mirror, from low iron glass to painted glass along with the years.
You can find the biggest assortment within our acid etched glass from scratch resistant anti-slip flooring glass to non-glare glass for marker boards. Our acid etched glass is used in many areas such as; interior decoration, glass stair treads, digital signage, shower screens, solar panels, cabinets, wardrobes, balustrades, office partitions and doors.
We always try to offer the best solution for the end user and processor with fingerprint free and 100% etched sheets among the other products such as sandblasted glass and patterned glass or laminated translucent glass where you need privacy and light.
Yorglass is creating difference in environmental sustainability
Yorglass Satinated renewed its production lines as one of the most important indicators of its sensitivity to the environment, aiming not only to sign the firsts but also to offer the best, and then developed a refining facility as a result of a long, dedicated and cost-effective Research and Development process by focusing on the target of zero pollution.
Our treatment plant, operating on the principle of zero pollution in the field of liquids, solids and gases, is the first in the world.
In 2017 Yorglass Satinated collaborated also with Carbon Trust, a United Kingdom based organization which is an independent, expert partner of leading organizations around the world, helping them contribute to and benefit from a more sustainable future through carbon reduction, resource efficiency strategies and commercializing low carbon Technologies, to declare to the nation its carbon emission level. At the end, Yorglass had a big score in its industry and serving as the pioneer and first producer in glass industry who have joined in Environmental Foot Print Project for Businesses.
This Project gained a big opportunity for Yorglass to create awareness and make a state determination.